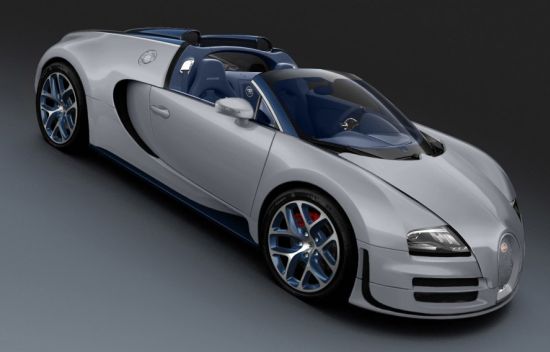 Bugatti Veyron Grand Sport Vitesse makes South American debut at the 2012 Sao Paulo Auto Show held in Brazil from 22 October to 04 November every year. The special edition of the most powerful and fastest convertible in the world appeared with a new name, Bugatti Veyron Grand Sport Vitesse Gris Rafale. The special edition Grand Sport Vitesse has major sections of its upper body finished in Gris Rafale color, whereas the roof, air scoops, air brake and many other parts are painted with blue visible carbon. The interior also features the strong contrast of colors that include leather seats finished in lake blue with matching light gray stitching.
There are no changes made under the hood whatsoever and Bugatti Veyron Grand Sport Vitesse Rafale gets power from the same quad-turbocharged 8.0-liter W-16 unit that develops a massive 1200hp and 1,106 pound-feet of peak torque. Engine is aligned with seven-speed dual-clutch gearbox that transfers power to all the wheels, enabling the beautiful beast to get from 0-62mph in merely 2.6 seconds, en route to its top speed of 255mph.
Just to remind all the Bugatti Veyron fans that Veyron Grand Sport Vitesse develops 200 more ponies to a regular Veyron and reaps the benefits of a number of upgrades in chassis, reinforced drivetrain components, modified air ducts to provide engine with more air, inclusion of four turbochargers and reduced back pressure of the exhaust that enabled Bugatti reduce fuel consumption with increased output.
Bugatti Veyron Grand Sport Vitesse Rafale costs a whopping 1.9 million Euros which roughly equals to 2.5 million USDs at the current exchange rate. The base price of the Bugatti Veyron Grand Sport Vitesse, however, is 1.69 million Euros (USD 2.2 million) which is roughly $271,000 more expensive than the Grand Sport Vitesse edition. Both price tags exclude tax and transportation charges.