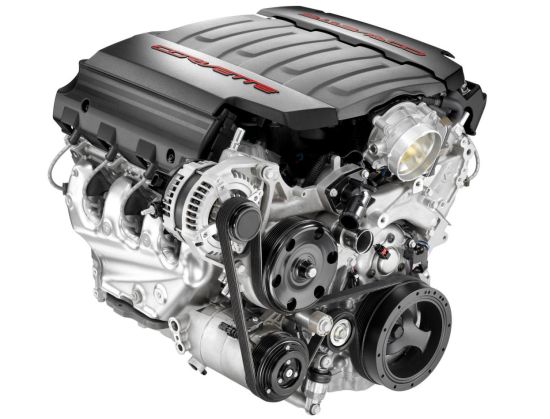 It was just a couple of days back we introduced you with 2014 Chevrolet Corvette (C7) which was reported to debut at 2013 Detroit Motor Show on January 13. All the other details of the seventh generation Chevrolet Corvette were almost confirmed, but there was ambiguity over the powerplant. However, GM puts an end to earlier speculations by introducing LT1 6.2-liter V8 for C7 instead of 5.5-liter unit  expected earlier.
The 6.2-liter V8 engine, with 11.5-to-1 compression ratio, is to develop 450hp and 450 lb-ft of peak torque, which is 20hp and 26 lb-ft of torque more than the outgoing 6.2-liter V8. With these figures, C7 is expected to get from a standstill to 60 mph in less than four seconds. The LT1 engine will, however, retain the OHV and Ca-in-block configuration from the outgoing engine.
The LT1 engine, as GM claims, will make 2014 Chevrolet Corvette the most fuel efficient 450 hp car ever, thanks to cylinder deactivation that GM calls Active Fuel Management. The system will shut down 1, 7, 6 and 4 no cylinders leaving the C7 with 3.1-liter V4 engine. Additionally, the LT1 will feature direct injection and variable valve timing to help it reduce the fuel economy drastically with increased power output. GM expects to get 26 mpg city rating for the 2014 Corvette.
Source: GM