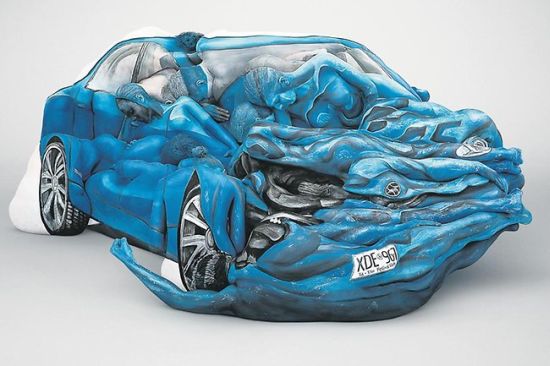 After the Human Motorcycle made a hit across the web a couple of days back, here is another similar creation that comes from the Motor Accident Commission of South Australia. The commission creates this amazing piece of sculpture to not only show its concerns about negative impact of low-level speeding on pedestrians but also to change the drivers' attitude towards the same. As a result, to encourage the drivers to slow down, the people at Motor Accident Commission teamed up with Adelaide based body painter, Emma Hack, to construct a crashed car  sculpture made up of human bodies.
The thought provoking Body Crash brings together talented artist and skilled athletes. It involves 17 body painted men and women that are assembled to create human wrecked car which looks like a real one every little bit of it. The shoot of the Body Crash sculpture took 18 hours that also includes meticulously painting 17 human bodies, each up to five layers of paint.
The effort is a part of broader anti-speeding campaign from Motor Accident Commission of South Australia to change the drivers' attitude towards low-level speeding to reduce the No. of fatalities on the road. The body crash sculpture of a wrecked sedan is aimed to engage drivers with its unusual execution and emotive appeal. It's a new, unique way to spread the message across that we all are the part of the problem and we all can be the part of solution too.