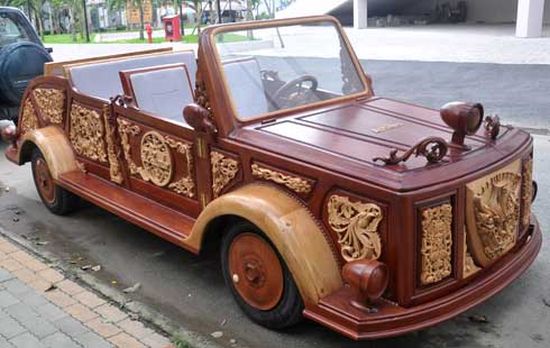 Wooden cars aren't new in the automobile industry. They have appeared time and again. However, the one we are introducing you with is a first of its kind in Vietnam and getting lots of praises and head turns in the streets of Ho Chi Minh City. Coming out from the skilled hands of Le Nguyen Khang who owns a wood processing firm, Le Lumber, in Binh Duong, conceived the idea of creating a wooden car while talking to his English friend.
The sketch for the unusual DIY car was created in the month of April last year and the wooden car came into being last month after arduous efforts put in by a team of 11 members for 16 months. Le Nguyen Khang named his wooden car after Achilles, the greatest warrior in Greek history. Achilles wooden car is created out of imported wood that includes Xylia Xylocarpa, Ash, and Walnut and features beautiful carvings on front and sides.
Achilles measures 4.6m in length, 1.8m in width and the wooden body of the car weighs 1.5 ton. Featuring Le Nguyen Khang's company logo carved on the front of the car whereasas the two front sides have a dragon, unicorn, turtle, and phoenix carved in a pattern. These animals represent the power beauty and nobility. You might surely be surprised to see the weird number plate, but it's actually Le Nguyen Khang's phone number.
In order to propel the wooden masterpiece that weighs a stunning 1.5 ton (wooden body only), Le Nguyen Khang uses a BMW engine and all the other necessary parts of the powertrain like gearbox, chassis as well as transmission system was imported from the German automaker. Everything else is replaced with wood and Achilles functions like a normal car. However, it's not a car that you can run too fast as the top speed of the car is just 60mph.
On the top of this, the making of Achilles has a noble cause at the core. Le Nguyen Khang has got currently four offers to built the car and interested people have offered as much as USD 24,000. Le Nguyen Khang wants to discuss things with the customers to find out if they are buying the car for the adequate reasons. All the proceeds from the deal will go to charity.
Vai: Talkvietnam / Odditycentral