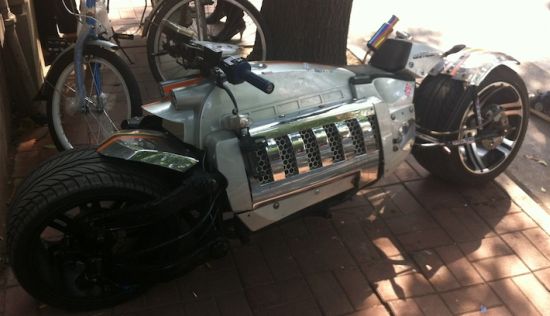 It's almost a decade when Dodge surprised the show goers at 2003 Detroit Motor Show by revealing monstrous Dodge Tomahawk motorcycle concept with Viper 8.3L V10 power. The one-off-a-kind motorcycle with two wheels at each end was never intended for production yet Chrysler built 10 copies of the beast, sans street legal credentials. But that didn't stop a Chinese enthusiast to create one for him.
The replica might not be anywhere close to the Dodge Tomahawk motorcycle – be it looks or power but considering the fact that it's been created by a DIYer and not Chrysler itself, it's a good attempt for sure. Powering the replica Dodge Tomahawk motorcycle from China is a gas engine and it has single fat tires on both ends. The DIY Dodge Tomahawk motorcycle, which seems to be based around a minibike, is chromed to the max and can be ridden.
The Chinese version of Tomahawk marks the ingenuity of the creator and is as original as many other DIY creations from the giant Asian country. The replica Tomahawk caters well to the senses of those who couldn't go for the real deal for a staggering 1.6 million USD.
Via: Carnewschina