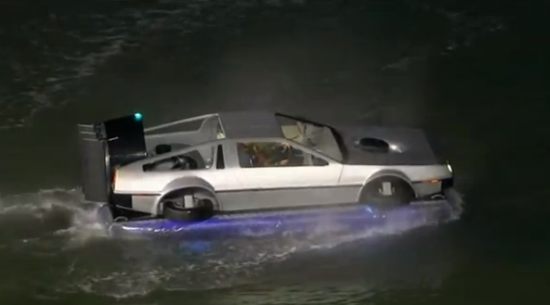 Though released in 1985, American science fiction 'Back to the Future' still remains in the minds of people as fresh as ever. Auto enthusiasts remember this movie for DeLorean – a modified 1981 DeLorean DMC-12 that was capable of flying backwards and forwards in time. DeLorean became every geek's dream car and since then we have seen enthusiasts building DeLorean replicas every now and then. However the one we are introducing you with is not only different from the lot but is created with a purpose in mind… the purpose to get a job in Google.
The hovercraft version of the DeLorean from the legendary movie was created by Matt Riese, 29, from San Francisco, CA. Matt wanted to get a job in Google, but he wasn't a typical candidate for a job in Google for he was working as a crab fisherman. However, the fact that Google prefers hiring people with peculiar tech traits gave him inspiration to build DeLorean hovercraft.
The work on the DeLorean hovercraft started in 2008 and, due to paucity of funds, Matt looked up to Kickstarter for funds. Matt got much needed $5,000 to finally give shape to vehicle. The car is created using fiberglass which is painted and sprayed to give classic DeLorean lines is complete with gull-wing doors. The structure is placed on the inflating base with engine which enables the DeLorean hovercraft to take on waters.
The project was to be completed in three months time but went far beyond the time limit and took considerable efforts. Whether or not the creation of DeLorean Hovercraft helps him gets a job in Google which is currently testing self driven cars, it's definitely an effort worth applause.