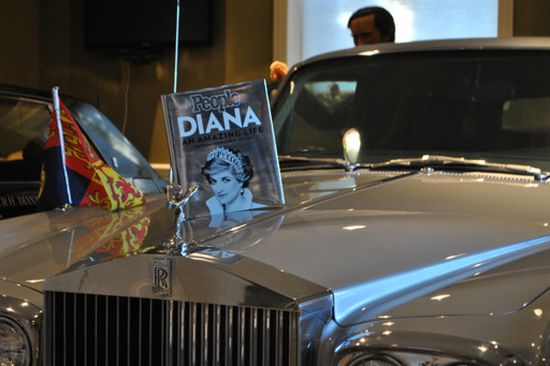 For those of you ardent fans of Diana, Princes of Wales, might surely be delighted to know that you can own one of the cars that Diana used during her first visit to US. Prince Charles and Diana visited US for the first time in 1985 and used UK's official embassy car – a heavily armored Rolls Royce Silver Wraith II which is to hit the auction block on 9th November, 2012.
The armored Rolls Royce Silver Wraith II was exclusively customized spending a massive $200,000 over the span of three years to provide bullet proof protection to all the British Royal family members and top most dignitaries visiting US. Bullet proof Rolls Royce is original other than shiny new paint. The car is to be put on bid by Volo Auto Museum in no-reserve auction.
Rolls Royce Silver Wraith II is a 1979 model with 6.75-liter V8 under the hood which is connected with automatic transmission. The car has locked 53000 miles in total. Featuring silver exterior with leather embellished interior, the customized Rolls Royce Silver Wraith's windscreen is several inches thick and weighs 600 pounds alone.  So is the rear window, while side windows are bulletproof and sealed to protect occupants from any toxic gas exposure.
The exterior is fitted with intercom, allowing the guards and other personnel to communicate with the occupants. Other noticeable features of the custom Rolls Royce include a diplomatic logbook that reveals how the vehicle was used to ferry Princess Diana and Prince Charles in the states and a video footage that shows the couple heading towards White House to meet the then president, Ronald Reagan and First Lady Nancy Reagan.
The Volo Auto Museum is offering the car with considerable historical importance to mark the 27th year of Diana's first visit to US. A portion of the sale will be donated to CHILDREN with CANCER UK – a renowned charity founded by Princess Diana in 1988 in Britain which is dedicated to the elimination of childhood cancer. The car, as the Volo Auto Museum associate  says, is valued at $2 million.
Via: Torquenews