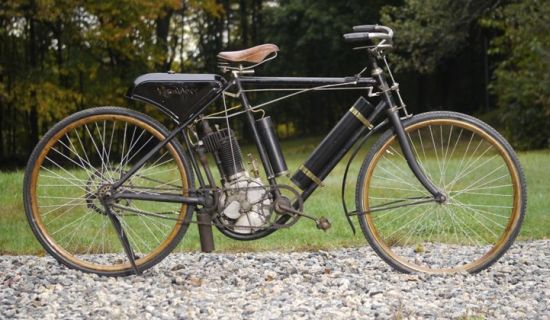 If you are one of the avid bikers and love to park antique pieces from bygone era in your garage, this 110 years old bike is a thing for you. Built in 1902, the historic Rambler Model B from the Indian Motorcycle Museum is in rare and original, un-restored condition. The bike was built by Colonel Albert Pope's American Cycle Manufacturing Company which was based in NY is having original paint, thanks to the decades long careful preservation and protection provided by Indian Motorcycle Museum.
The Rambler Model B bike that marks the progressive journey of bicycle to motorbike boasted the extremely advanced production technologies of the times it was manufactured in. It was one of the first motorcycles to have long wheelbase for stability and it was really a high quality machine. Bike hasn't been restored or repainted since it came into being in 1902 and has the distinction of being America's first production motorcycle.
Featuring an engine that was designed and made by Cycle Manufacturing Company and frame of the motorbike was specially built and differs considerably from a bicycle frame. One of the world's first commercial motorbikes ever built, Rambler Model B is not only the physical representation of American heritage, but is the rarest among the rare motorcycles ever built. Bonhams estimates the bike to fetch anything between $60,000 and $80,000 at Bonhams Las Vegas Motorcycle Sale on Thursday, January 10th, 2013.