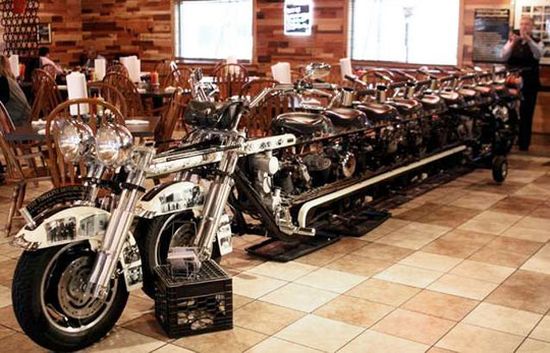 We have had already introduced you with some of the most amazing customized Harley-Davidsons in the past, but the one we are introducing you now is the most extreme version of them all. Built by Steve "Doc" Hopkins who owns Doc's Harley-Davidson in 2009, the bike took seven months to add seating for ten people at a time and has all seven different-generation Harley engines ranging from F-Head IOE (1909-1929) to current Twin Cam.
Aptly christened as 'Timeline', the Harley train is 25 feet long and weighs 3000 pounds, approximately 5,000 pounds with full crew on board. The most peculiar thing of this custom Harley-Davidson is all its seven engines work in perfect harmony with a massive clutch. The herculean feat took too many hours to fine tune the engines to be happy together and adding a clutch, capable of handling 1000 hp, to make it function as one machine.
The customized Harley-Davidson Timeline motorcycle is a real challenge to drive and is unique in more ways than one. It has four wheels that include two front forks and two rear wheels to bear the enormous weight. At the rear of Timeline, there are aircraft wheels to help driver balance the motorbike when fully loaded. The bike holds little more than nine gallons of fuel, with a fuel economy of about 22 mpg and needs 60 feet radius to make a turn. The bike is on its way to Essen Motor Show of Germany which is to be held from December 1-9. The bike is to use road, train, cargo container and road again to reach the venue.
Via: Ctpost