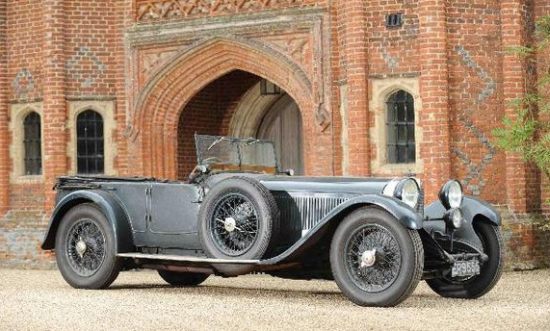 The rare S-Type Mercedes pictured above had been sitting quite in a garage for the last 60 years and after being discovered lately, it's going straight to the Bonhams' upcoming Goodwood Revival sale where it is being expected to fetch a cool £1.5 million. The rusty S-Type Mercedes Benz was one of the world's fastest cars when it hit the roads in 1928 and was able to reach speeds of over 100 miles per hour. Unfortunately, this classic hasn't been driven since the early '50s, but is said to be in perfect running condition by the auctioneers.
The exceptional 1928 Mercedes-Benz 26/120/180 'S' Type Sports Tourer enjoys the famous supercharged 6.8-liter engine designed by Ferdinand Porsche, the figurative Mercedes 'V'radiator grille and bodywork by London-based Cadogan Motors coachbuilders. About this lost Mercedes, Automotive expert Rupert Banner says…
It has literally been off the radar. No one knew such an untouched and archaic this old existed. It is an incredible find.
The iconic car has been done in dark battleship gray and since its birth, it hasn't recicved any restoration and keeps in place its original blue leather upholstery. Bonhams has never failed the auto enthusiasts when it comes to buying/selling of classic and iconic cars and this garage-found 'S' Type Mercedes is no exception. The hotly awaited auction takes place on September 15, 2012. Previously, a 1929 Mercedes-Benz 710 SSK 27/180/250 Sports Two Seater was sold at Bonhams for a record £4.18 million.