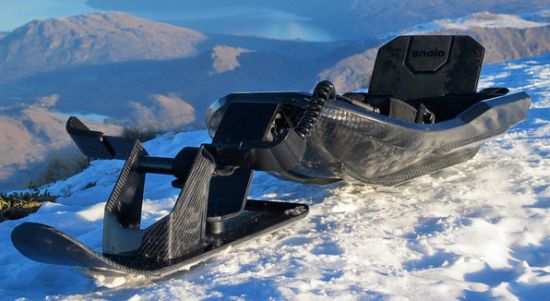 What better way to have some fun this winter on the snow sheet spread all over than using this carbon fiber alpine sled. The latest innovation in the snow sport, the Stealth-X from Snolo Sled is to make you experience the extreme sledding. The Stealth-X sled is lightweight and folds down to fit well in your backpack, thus enabling you transport it easily.
What seems like a Ferrari for the snow covered lanes down the ski slopes, the steerable ski that makes you feel like sitting in an F1 car also allows you lean into turns in a similar fashion as motorists do. Stealth-X is a real fun bonanza this winter. On the other hand, as the sled is made of carbon fiber, you can easily carry it back to the peaks which will surely enable you have those extra runs every day.
The sled comes with an asking price of $US3000. Well, that's hell lot of money to spend on a sled, but the carbonfiber make, easy portability, unlimited joie de vivre together with new styling, performance, easy maneuverability and the opportunity it offers you to take childhood fun to a whole new level justifies, little if not much, the heavy price tag it has.
Via: Gizmodo /Coolmaterial