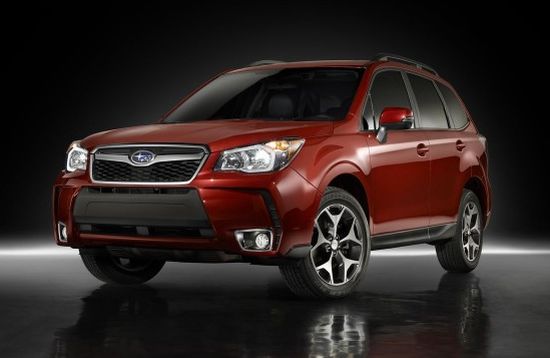 The images of 2014 Subaru Forester SUV were leaked online through Forester's Japanese market brochure last month. However, now we have the official images and tech-specs of the next generation Subaru Forester. Subaru claims to more fuel efficiency than the outgoing model in the 2014 Forester and has done considerable design tweaks to make it even more appealing.
2014 Subaru Forester SUV will come with two engine options:  a 2.5-liter naturally aspirated four-cylinder boxer engine and a 2.0-liter turbocharged I-4 boxer engine. Whereas the former is capable of generating a 170 hp and 174 lb-ft of torque, the latter is rated at 250 horsepower and 258 lb-ft of peak torque, which is up from 224 hp and 226 lb-ft.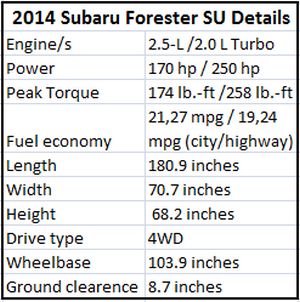 The four speed automatic transmission from the current model is dropped, paving the way for CVT transmission in 2014 Subaru Forester Turbo which has either six or eight-speed manual modes with Hill Descent Control. The naturally aspirated 2014 Forester will get a six speed manual transmission. The Subaru fourth generation SUV will come in four-wheel drive as standard. The EPA rated fuel economy stats are at 21/27 mpg for city and highway driving with both transmissions but the 1-4 turbo version offers 19/24 mpg (city/highway).
2014 Subaru Forester SUV offers more interior space, with little increase in the length, width, and height which now adds 1.4 inches, 0.6 inches, 1.3 inches respectively. The wheelbase has also been stretched by 0.9 inches. With a ground clearance of 8.7 inches, Subaru Forester will take on any terrain with relative ease. The navigation system, rear view camera and a premium sound will be standard in newest Subaru Forester.
The all new Subaru Forester for 2014 will debut at Los Angeles Auto Show in November. No price details are made available as of now but expect it start with little less than $22,000 with destination and delivery charges and it's expected to go as high as  $29,005  for the top end.  The vehicle is expected to hit the dealership by the end of the year.
Source: Subaru