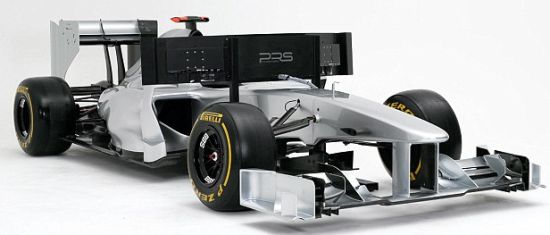 For those of you who like F1 racing but couldn't made to the race track ever might surely be delighted to know that you have a bright chance to own a simulator which resembles the Formula one car every little bit of it. Offering the feel to drive at the highest level, the simulator is made to orders and is painted in buyer's chosen team colors. Manufactured by FMCG International, the simulator comes complete with full size cockpit, tires, three 23" screens, a speaker tower to resemble the sound of an F1 car on track and a powerful Intel i7-based gaming PC together with Intel SSD hard drive, a wireless keyboard and mouse.
On the top of this, engineers visit buyer's house to install and train the owner to use the controls efficiently to make the best out of their prized possession. The simulator doesn't only look great but has an added bonus to provide the virtual environment to hone the driving skills and improve driving techniques of the more professional drivers. After you decide the color schemes for body and wheel rims and place the order, you need to wait for another 12-18 weeks to get the gadget delivered to you.
Considering unparallel details in its making, FMCG International replicates cutting edge design and technology so prominent in F1 cars to present an extraordinary gadget in F1 simulator which is indistinguishable from the real deal.  Not only is this, but the Simulator also comes equipped with Pirelli F1 tires and AP Racing or Brembo brake calipers. The exceptional details to the original and all that makes it look like a real F1 car makes it an ultimate toy for rich boys for the cost to own one is staggering £90,000 (USD 145,000).