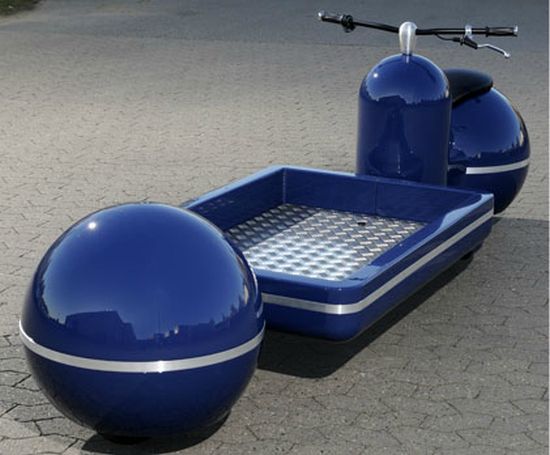 Keeping in mind the densely populated cities of the modern times, creating a vehicle that not only copes up well with urban environment but also ensures smooth rides down the narrow streets and sharp turns, is really a big challenge. There are scores of concepts from designers across the globe trying hard to find a solution to the big problem. Here is one such vehicle from Michael Svane Knap of Denmark who imagines Cargo Pal – an eco scooter developed in collaboration with Tre-For Danish power Supply Company.
The making of Cargo Pal eco scooter initially started on the similar lines as a classic Long-John bicycle with an idea to make a cargo scooter that can run swiftly in narrow streets with sharp turns, so common in the modern urban landscape. The designer comes up with a solution in the form of Cargo Pal with two pods that are nothing more than hidden wheels with hub motors. Each wheel rotates around its own axis and there is no mechanical connection between wheels and steering as everything is done electronically.
Additionally, keeping in mind the rough roads of cities, the electric scoter has two hydraulic shock absorbers, placed on the top of the axis where wheels turn, to help raise or lower the vehicle as per the road condition. To ensure that rider doesn't lose balance on rough roads, Cargo Pal uses gyro technology which is common in segways. So, Cargo Pal seems a good imagination for transporting things of common use eco friendly way.