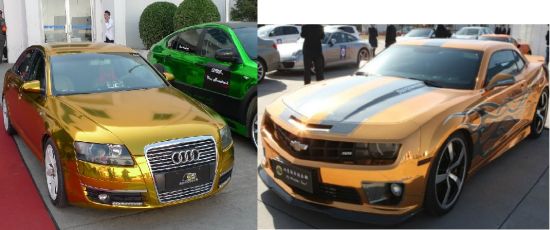 It seems China is getting excessively in love with gilded cars, gold plated in particular. We just introduced you with gold plated Ferrari 458 Italia from China and, just one day after, there are two gold plated cars originating from the Asian country: Chevrolet Camaro SS and Audi A6L. Both the cars are wrapped in gold and shines under the blue heaven of China.
While the Chevrolet Camaro SS in gold was spotted at the Goldenport Circuit in Beijing, the Audi A6L was seen on the China International Auto Parts Expo (CIAPE) in Beijing. Audi A6L is covered from bumper to bumper in gold but the white alloy wheels somehow don't jell well with the complete gold makeover. On the other, gold plated Audi A6L feature completely chromed grill doesn't go well with the gold either.
Chevrolet Camaro SS has been also added up with lower suspension, a body kit, racy car decals, low profile tires and runs on advanced alloy wheels. The Camaro is exported to China by GM and is making a huge success in China. However, we don't really know what the purpose behind the golden wrap is or who is behind it but it's really awesome.