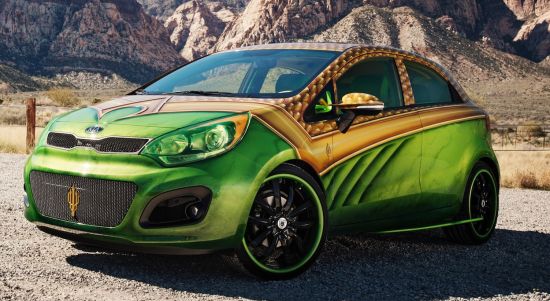 The 2012 SEMA show saw some of the most amazing custom cars on the prowl. Some of them really stole the hearts of the show goers while many other entertained them with their peculiar looks and traits. Well, that's nothing surprising to anyone of us as we all know that's what SEMA auto show is all about. We are now introducing you with one of such cars that will surely mesmerize you, Kia Rio Aquaman.
After showcasing Batman themed Kia Optima SX created to support DC Entertainment's 'We Can Be Heroes' charity campaign earlier, Kia now presents Rio Aquaman edition in collaboration with DC Entertainment and West Coast Customs and the final results are more than convincing. West Coast Customs treats Aquaman inspired five-door Kia Rio Aquaman with special gold, green and orange exterior paint together with custom fabricated fins. The other prominent features of the Kia Rio Aquaman edition includes Oracle LED wheels, body lighting on the exterior as well as body color matching 20" Asanti wheels draped in Continental rubber.
The Aquaman theme continues inside as well and one can find the reupholstered seats that are finished in green leather with yellow and gold accents. The headliner now features green suede and Aquaman logo shining on the back of the seats completes the thematic transformation of the cabin. If you are interested to know more about this peculiar Kia Rio Aquaman edition, just open the trunk to find out the customized enclosure showcasing Aquaman comic-book art and a unique polycast cutout creating an underwater scene with Oracle LED lighting.
Also, the Kia Aquaman is also equipped with seven inch Rosen Entertainment monitors that play 'We Can Be Heroes' video, 12" subwoofer and a pair of component speakers and amplifier. Rosen Entertainment monitors play 'We can be the Heroes' – a charity campaign by DC Entertainment aimed at raising awareness and fighting hunger in the horn of Africa.