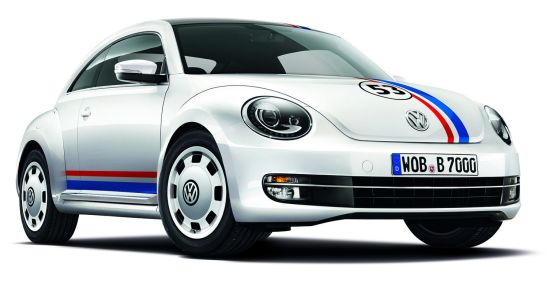 Volkswagen Beetle needs no introduction in the automobile world as it's on the road since 1938 and already holds the titles of longest running and most manufactured car on a single platform worldwide. Starting its journey as a Volkswagen Type 1, the car is liked with the same passion even today. We have seen its various versions since then. Keeping customer liking in mind, the German automaker now comes up with Volkswagen Beetle Edition 53 exclusively for Spain.
Taking inspiration from Herbie character from the movies like 'The Love Bug' that came in 1968; Volkswagen Beetle Edition 53 features interesting touches. A distinct combination of tri-color stripes – red, white and blue – and some peculiar features like sensors for tire pressure and parking, 17" alloy wheels and Beetle 53 badge in the gloves.
The exclusive edition for Spain is offered with four engine options that include 105 hp 1.2-liter TSI engine, 1.6-liter TDI engine which delivers the same power as the former, 2.0-liter TDI engine developing 140 hp, and a 2.0-liter TDI engine that generates a total of 140hp. Engine is aligned with six speed DSG transmission. The models are priced at marginal differences at €22,090, €23,770, €26,150 and €27,980 respectively.
Via: Thecardriving