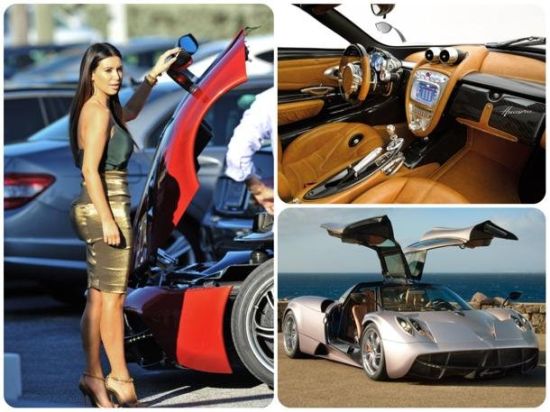 If any car, other than a Ferrari she already owns, is beautiful and deserves to place Kim Kardashian's belligerent ass right behind the wheel is Pagani Huayra. Both complement each other for being on-off as Pagani Huayra is one of the engineering marvels on road offering that exhilarating fun behind the wheel, while Kim may be one of the most beautiful women in the world for reasons that might escape us many.
Kim Kardashian spent $2 million to own the first Pagani Huayra that will be released on US soil. What better for the million dollar celeb to go blitzkrieg with this Pagani Hyarya that comes equipped with Mercedes-Benz AMG sourced M158, 6.0-liter V12 engine good for 730 hp and 1000 Nm of peak torque. It's no surprise that engine with this much of power enables the beast to sprint from 0-100 km/h in just 3.2 seconds, with its top speed at 370 km/h.
Kim already parks a Ferrari 458 Italia, a Lamborghini Aventador and many other expensive iron beauties in her garage, but she might be looking to add a bit more spice to her drives in 2013. As a result, she spent more than an hour checking out Huayra at Lamborghini's Miami dealership that didn't, however, extended to a test drive. Nevertheless, she bought America's first Pagani that will be delivered in 2013. Owing to the fact how fast Pagani Huayra is, guys out there need something equivalent, if not more aggressive, to keep up with her.