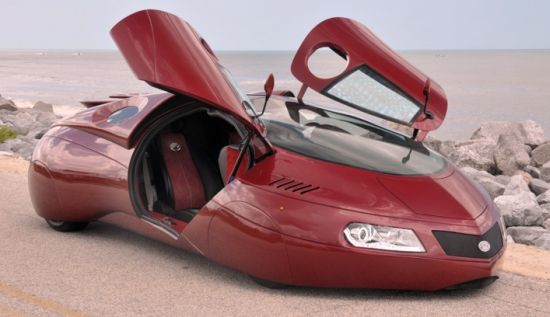 There are too many sci-fi cars built in the past but one that can really make any auto nerd go crazy is here. Coming from the skilled hands of a diehard sci-fi fan and designer Michael Vetter aka Kit Car Mike is christened as Extra Terrestrial Vehicle (ETV). The level of craftsmanship is unparallel as this amazing looking car is built on an ordinary Chevrolet but it's really different than any other car you see on road. The creation looks amazing and it could really end the hunt of a millionaire auto nerd who has every kinda car parked in his garage but still looking for something different.
Michael Vetter owns "The Car Factory" in Florida and he has built more than 100 custom cars so far. However, as per Kit Car Mike, Extra Terrestrial Vehicle is the best of the best if we talk about overall design and reliability. Seven of the ETVs are built by him so far with a wind screen as high as five feet and remote controlled gullwing doors that surely make any sci-fi car including DeLorean from 'Back to the future' look dumb and outdated.
The Extra Terrestrial gets power from a 2.0-liter supercharged engine that develops a total of 270 ponies. Engine is connected to a five speed gearbox that conduits power to the front wheels. The car also comes equipped with two cameras inside that help driver park it with relative ease.
ETV is an amazing car with distinct design which not only impressed the sci-fi fans but also got a lot of attention on the road. However, such a car doesn't, of course, come cheap and if you are really looking to own one you need to shell out a cool £75,000 – the same price you spend to own a Porsche 911.
Via: Dailymail