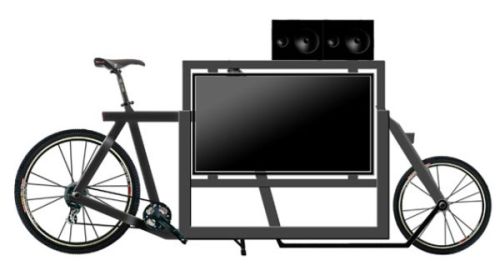 Biking is surely a fun to an avid biker anytime, but those who are eager to add a bit more spice to their ride every time they hit the road would surely love to own one we are talking about. It's not just a bike but takes fun on two wheels to a new high. Created by Team Tentakulus, the two-wheeler is hailed as TV bike and is entirely different from any of the conventional or modern bikes, with carbon fiber make, you might have seen rolling on the street.
Well, yes the TV bike is different in more ways than one. TV bike is multifunctional and as the name suggests, it has TV and sound system that keeps you entertained on the go. The TV bike is created by Team Tentakulus with the intention to develop a design of a regular mean of transportation with wide range of functions.
The TV and sound system enabled bike isn't just about fun on the go but one can park it in the living space to enjoy the high quality sound and watch TV while you relax at home. Other than the style quotient, the TV Bike can also be used for many promotional purposes as well.
Via: Homechunk