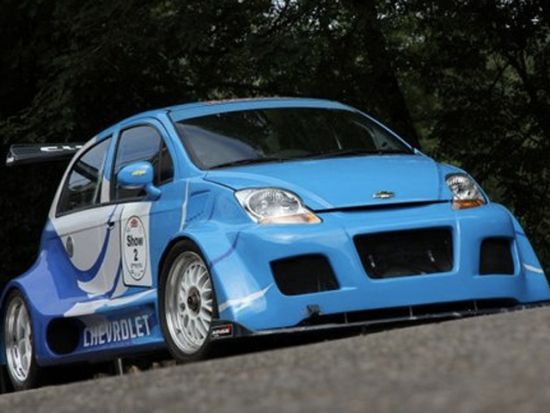 There is no dearth of crazy souls who are bit more imaginative than other mortal beings and often impress with their one-off-a-kind creations that leave an everlasting impact on our minds. One such creation is this Chevy Spark and now you might ask what's so special about this tiny car. And quite true! However, this car may look small to any sane eye size wise but it's really big with something that's under the hood.
Well, yes a Belgium based tuner, Fourdin Auto Sport, swaps the small 84 hp four-cylinder 1.2-liter engine of this small hatchback with Chevrolet Corvette Z06's 7.0-liter V8 motor and now this little beast roars with 550 hp. Engine powers, as it seems, the rear wheels instead of front ones. The result is more than convincing to this little car that now does 0-62 mph in just 3.2 seconds, with its top speed at 161 mph. The increased power is backed up with Corvette custom steering and brakes.
Other than massive power boost, Fourdin Auto Sport adds wide body kit to it. Also, there is a massive rear wing, FIA complaint roll cage, racing slicks and 18" wheels for more stability on road at high speeds. The car was spotted at the eBay in Germany recently and swapped hands for 43,000 euros which roughly equals to USD 54,900 at current exchange rate.