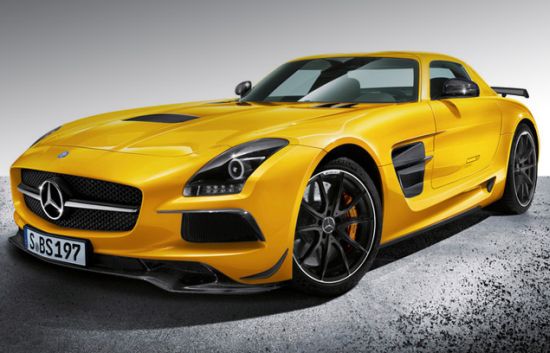 Mercedes-Benz SLS Black Series is in the news for a long time and has a long chain of incidents ever since. We initially had some spay shots of the latest car from Mercedes and some reports of it getting fire during testing on Nürburgring track. Then we got some insight into the details of car 20 days back. Yesterday, Mercedes teased the SLA Black Series on FB and finally the automaker takes the wraps off to its latest creation letting the fans across the globe know what the new beast will be all about. The 2014 Mercedes-Benz SLS Black Series will officially debut at the 2012 LA Auto Show.
Under the hood is the same, as we reported earlier, 6.3-liter V8 engine but guys at AMG has worked extra on the engine to squeeze those extra 40 ponies. Engine now generates a total of 622hp but there is 11 pound-feet fall in the peak torque at 468 lb-ft. Engine is connected to seven speed dual clutch transmission that transmits power to the rear wheels. SLS Black Series takes merely 3.5 seconds to reach 60mph from a standstill, with its top speed at 196 mph. To bring the beast to a halt, there are improved ceramic brakes with two piece rotors and adjustable coil over suspension, electronically controlled rear differential as well as widened tracks improve the overall handling of the car.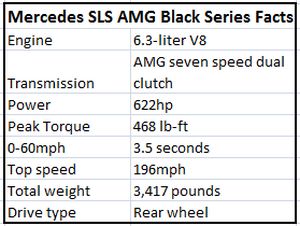 On the other hand, the Black Series treatment also means that 2014 Mercedes-Benz SLS black series is on diet and loses 154 lbs which is made possible with the extensive use carbon fiber to some parts of the chassis and interior. Also, its diet to shed some weight includes new lithium-ion battery pack and titanium exhaust system that makes it weigh 3,417 pounds in total which is 154 pounds less than the SLS AMG GT.
Inspired by the GT3 racecar, 2014 Mercedes-Benz SLS Black Series edition features all carbon fiber big front splitter, side skirts, a fixed rear wing, massive diffuser and wider tracks at front and rear. The new beast runs on 20-inch forged alloys and features a Solar Beam paint exclusive to the car. The interior is finished in Alcantara leather with red contrasting stitching and also there is an optional AMG Aerodynamics package.  Mercedes-Benz SLS Black Series goes on sale in next summer with no word from the brand about its pricing as of now.