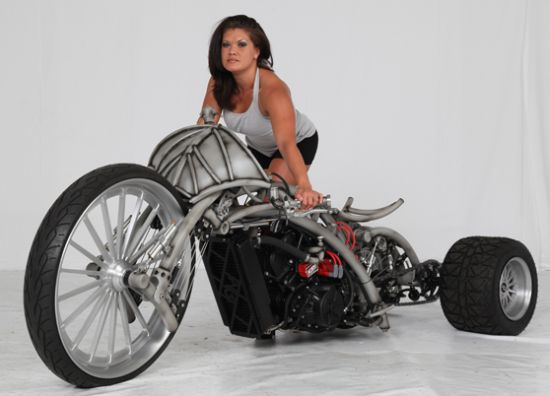 While there are too many custom chop shops building some unique motorbikes every now and then but one from Rafik Kaissi, the owner of RK Concepts, is something that really makes big difference in all the aspects – be it form or the overall make. Out of his many one-off custom motorbikes, the RK Thing was showcased at the AMD World Championship and got ninth position.
To propel this beast on the road, Rafik Kaissi uses Aprilia 1000cc engine which is connected with 6 speed transmission to make it a real monstrosity on the road. The bike also features Rake with 34 inch stretch and dual piston Brembo brakes.
The custom bike has a different form, thanks to the Truss frame that holds oil, Truss swing arm, seat as well as Truss wheelie bar that one can adjust. Also, you can see a rarely made gas tank at the front, a uniquely designed yet original front and rear stainless steel cable suspension that allows the rider to fix the ride height as per his height and Ohlins dampers.
Rafik Kaissi unveiled five of his outrageous custom motorbikes at SEMA Auto show at Las Vegas this year and got a spectacular response from the crowd. RK Thing custom motorbike is a beautiful exercise of style and is one-off a kind bike even out of too many that Rafik Kaissi has built so far. Rafik Kaissi claims each of his bikes including RK Thing can be ridden but he aims to make motorbikes for the movie industry, which sounds too limited a niche but we wish him luck for future endeavors.