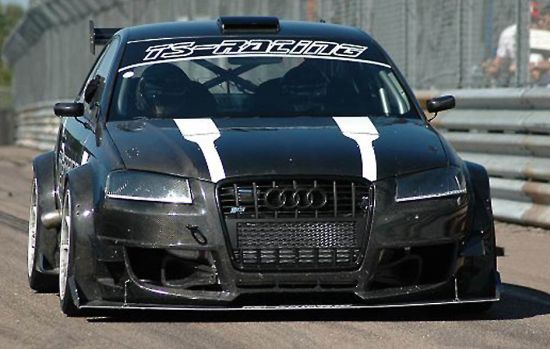 Audi S3 is a hot and sensible car in the hatchback body style offering enough fun behind the wheel with 2.0-liter TFSI engine developing 261 hp and 258 feet of peak torque. That's not what some crazy auto nerds are really looking for but something more and TS Racing comes up with the answer. TS Racing adds not that little boost but a massive one for those who think even 'too much' isn't quite enough all the time and everywhere.
The owner of the TS Racing, Tommy Schønberg, is one such crazy soul and goes beyond the measures to tune his S3 in a different way. His tuned Audi S3 to look entirely different. All the luxury things has been removed for saving weight, the cage of the car is replaced with the automatic climate control, racing seats are swapped with leather clad sport seats and so on.
Coming back to the thing under the hood, it meets the same treatment and has 2.0-liter TFSI engine replaced with 2.5-liter five-cylinder mill. The power output goes from 261hp to a massive 1,074 horsepower and 854 pound-feet of torque. While we would have surely loved to know the performance figures but woefully we can't help you out with the same at this moment of time. However, you can hit past the jump to check out the video.