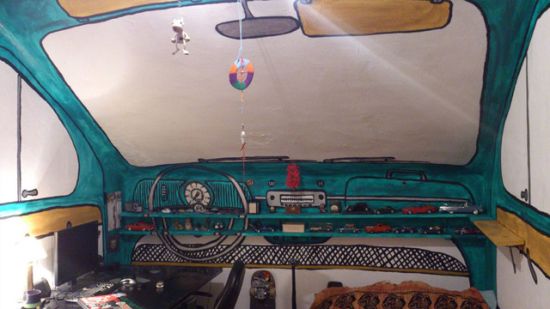 We have seen Volkswagen Beetle in many avatars so far – be a pimped one, a dragster, an art car and many other forms beyond count. People love it with equal, even more, passion ever since it hit the road in 1938. This is perhaps the only reason for it to hold the title of the longest running and most manufactured car on a single platform worldwide. Well, that's a long but different story. Here, we are introducing you with something that's entirely different… something that shows a teenager's love to the old bug.
The image you see above isn't VW Beetle's interior but the 19 years old Otto paints his living room to look like one. The student of Faculty of Architecture, School of Design at the University of Zagreb loves cars but couldn't afford one. However, this is how he gets as much as close as he can. The car that he paints his small room look like one seems pre '62 sunroof Beetle and is painted with aftermarket fuel gauge and accessory wicker under-dash trays.
Otto first considered the interiors of BMW 2002, Renault 4 and a big American car from 1950s to paint his room resemble one but finally settled down with Volkswagen Beetle that he saw online one day. After selecting the car interior, he painted his room white, draw the outlines with pencil and fill up the green and brown patches first followed by outlining the whole thing with black and draw the dashboard.
The young creator has painted all the controls on dash, passenger grab straps, door handles, window levers to create an aura of Volkswagen Beetle. The room looks incredible, and owing to the fact that it comes from a teenager who has toiled really hard and kept the meticulous details in mind while bringing VW Beetle feel to it deserves applause. Kudos to the young creator!
Via: Jalopnik