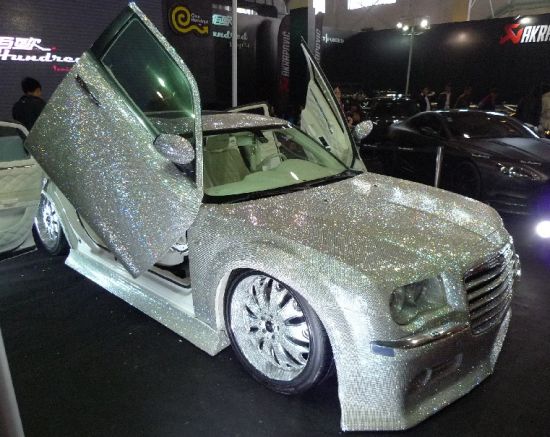 After so many blinged cars coming out from China in the recent past, the craze doesn't seem to stop here. People's craze for blinged wheels is taking a new high in the country and here is just another addition to the long list of cars that dazzle under the blue heaven. This extremely blinged Chrysler 300C has overwhelmed people at China International Auto Parts Expo (CIAPE) in Beijing.
The sparkling car is created by a local tuning company in Beijing and level of craftsmanship is really high. However, the lovers of blinged wheels might be little disappointed to know that car is decked with innumerable plastic crystals that are glued all over the body. Apart from adding that so called blinged factor, the car has Lambo doors upfront and suicide doors at the rear.
This one hell of a pimpmobile with customized interior wrapped in white leather, including dash and even floor, compliment the exterior. Pimped up Chrysler 300C has been lowered to the ground and runs on massive 21" wheels.