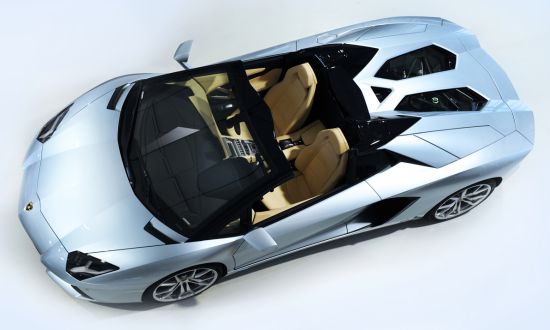 Lamborghini Aventador LP700-4 coupe is, undoubtedly, a huge success and people loved the sleek bull from Italian automaker. Lamborghini has sold more than 1300 Aventador coupes so far and it seems that Italian automaker is prompted by its immense popularity to create a roadster version of the same. It will, as Lamborghini expects, get a strong welcome from the Lamborghini fans.
The roof of the Aventador LP700-4 is a two peace affair created using nothing but carbon fiber that makes it weigh merely 13 pounds. Though the roof is to be removed by hand, but the conversion from coupe to convertible takes a few minutes following an easy process. The pieces of the roof can be easily stored in the front luggage compartment. Also, the topless version comes with powered rear window and front mounted wind deflector that can also be removed and stored in the front compartment, thus allowing the driver choose the ride as per the external elements.
Everything else is almost identical to its fixed roof sibling. Powering the convertible version is the same 6.5-liter V12 engine that develops a massive 700 hp. Engine is connected to seven-speed single-clutch paddleshift gearbox that enables it to get from 0-62mph in just three seconds with its top speed at 217mph. To provide that unmatchable sports car performance, the convertible version's gearbox is combined with posh rod suspension while there is also an instant stop and start as well as cylinder deactivation system.
Some considerable changes to the coupe version can be witnessed in the form of a different hood design that not only provides a better cooling to the engine but also drain off rainwater. The convertible bull will be sold globally with its European pricing at 300,000 euro (which equals to USD 381,000 at current exchange rate) excluding taxes and miscellaneous charges.