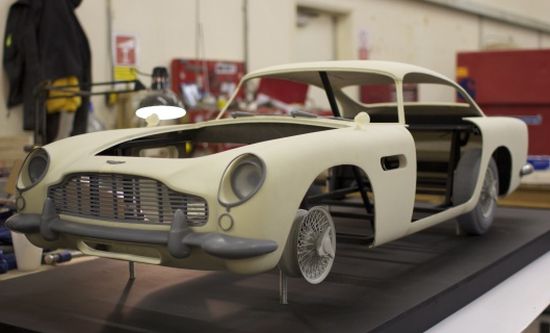 James Bond movies are all but actions, stunts and lots of entertainment. However, there are lots of things behind the scenes that are often buried but eventually surface at times. The one such incident from the latest James Bond flick 'Skyfall' is here. The classic 1960 Aston Martin DB5 which was used in the 1964 movie Goldfinger is used yet again in the new film. The car was put through explosions and stunts recurrently during the filming of Skyfall that also include a scene wherein the DB5 bursts into flame. If you think that was an original classic car, you are mistaken.
The producers tell about the secret behind the stunts and it was a 1:3 printed scale replica of the Aston Martin DB5 which allows them to print another when one is destroyed. The reason being, classic 1960 DB5 is too priceless to destroy in a movie. In order to save the iconic car, movie studio contacted Propshop Modelmakers Ltd. Augsberg-based 3D print firm with expertise in producing film props. The firm further asked Voxeljet to create 1:3 scale replicas to be used in the explosive scenes.
Three models, with dimensions of up to 8 cubic meters, were created in total that double the original car from the 1960s. The firm uses VX4000 3D printer to make the replica of James Bond's car. The 3D printed car consists of 18 separate pieces that were shipped to London's Propshop where they were assembled and given fake bullet holes to make it look real every bit. The 3d printed model was then used in a scene that shows the car exploding to flames, thereby completing destroying the car.
The entire body of the car is based on steel frame that exactly resembles how the cars are assembled in the past. One of the three printed models was destroyed in the Movie, whereas Christie auctioned another model for a cool £100,000. Some of the movie fans might think that $200m budget film doesn't even have a real car exploding but destroying a replica than a car as classic as James Bond's Aston Martin DB5 makes more sense, I suppose.
Via: Theregister /3ders