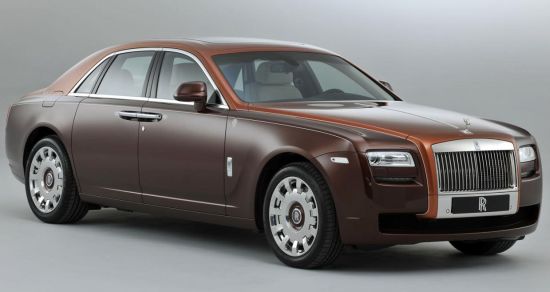 Mideast is a big market for luxury autos. In order to keep up with the rising demand of luxury cars in the region, Rolls Royce announces three limited edition Rolls Royce Ghosts for those who think the car isn't unique enough. The collection is inspired from the tales of The Arabian Nights Entertainment and is named as One Thousand and One Nights collection. The one pictured here is one of the three models, called chapter one, of the collection and will be shown at the Sharjah International Auto Show starting from November 28th this year.
Bespoke Rolls-Royce One Thousand and One Nights Ghost Collection will have Middle East flair that will be excusive to the region. The special edition Ghost comes with two-tone paint schemes, inspired from stories of 'The Arabian Nights', and subtle accents. Apart from the unique paint job, the interior is embellished with white leather for seats, piano black trim and rear seat entertainment system. This is the first model or rather say chapter one, chapter two and chapter three will be unveiled in the first as well as third quarters of next year respectively.
Things under the hood, however, seems to be the same and the special edition Ghost for Mideast will come with 6.6-liter twin-turbo V-12 engine that churns out 563hp. Engine is aligned with eight speed automatic transmission which enables the beasts to get from 0-60mph in 4.3 seconds. Well, these are just the assumptions, actual details for the edition will be revealed with its debut at Sharjah International Auto Show. No details about the price whatsoever are available either.