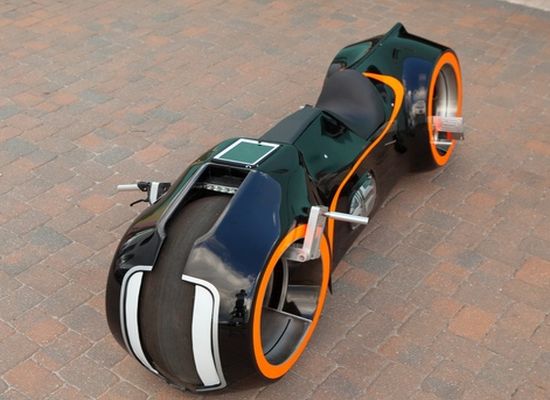 If you are one of the great fans of sci-fi flick Tron: Legacy and crave to ride the motorbike featured in the 2011 movie, then you can go for this replica Tron Legacy motorbike that resemble the original every bit. However, it's powered by an electric motor, meaning owning one will not only add to your style quotient to get those sinister looks on road but will reduce the carbon footprint too.
The custom built life sized replica of the Tron Motorcycle with identical hubless wheels comes complete with integrated iPad and radiant black and orange stripes is on offer from Florida-based Wheels 4 Mansions. The replica Tron motorcycle that measures 9 feet in length, 24 inches in width and 47 inches long can be yours for a cool $75,000 that also includes a bespoke crash helmet and leather suit.
On the top of this, the bike is also offered with a set of customized training wheels to make transition easy and the rider has to adjust to their riding habits to get accustomed to steer it. However, before you actually make your mind to go for it know that the tires have cowling and it isn't made for high-speed cornering but for boulevard cruising.
Via: Nydailynews