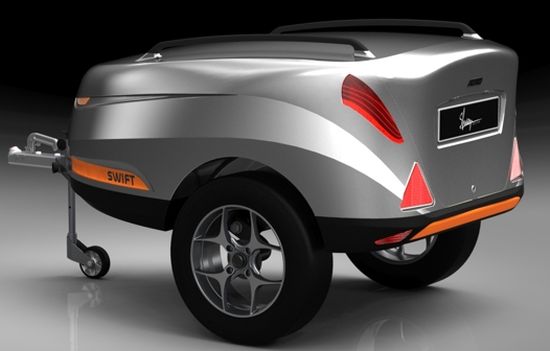 Petrol prices are increasing with each passing day across the globe and South Africa is no exception. Rising fossil fuel prices force consumers to find out new means of transport that are not only fuel efficient but sustainable too. As a result, some people buy smaller vehicles that are more fuel efficient to cope up with the difficult situation. However, small vehicles aren't perfect either. They have their own problems and one of them is reduced luggage space which might create a little fuss for those who love off-roading or want to go on long drives on weak ends at times.
Finding trailers that can be attached to compact vehicles is difficult, if not all that impossible. The reason being, the trailers are deigned to be towed by powerful vehicles like SUVs and other big gas guzzling machines. To cater to the people who are having small vehicles but always feel a need for that bit more luggage space, Murray Sharp, Johannesburg based designer, comes up with small trailer concept that suits the smaller but fuel efficient cars.
Christened as Swift trailer, the concept is imagined lightweight and aesthetically pleasing to the niche market. The Swift luggage trailer for small cars is as sophisticated as a contemporary car and offers the users rich semantic values and high level interaction with product. The small but attractive Swift trailer will surely rid the small vehicle owner of the fatigue to find that bit more space they always desired while saving fuel and enjoy the comfort on the go.