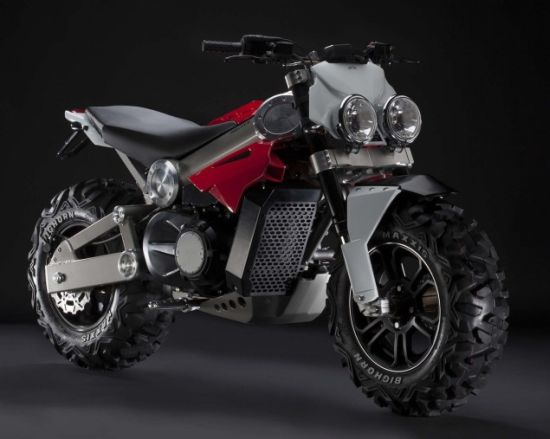 Alessandro Tartarini, the son of Italjet founder Leopoldo Tartarini, has come up what can really be deemed the SUV of motorcycles. The looks and overall appearance of the bike which is named as Brutus (please don't take it anything related to an existing Brutus electric motorcycle) makes one surely think if an SUV on two wheels will ever exist it will surely look something similar. Well, to know what's so brutal about this Brutus, read the following lines.
Brutus motorbike concept was showcased at the 2012 EICMA. It gets power from a single cylinder, four valve liquid cooled 45bhp engine with electronic fuel injection. Engine is mated to two-speed Continuously Variable Transmission (CVT) with optional reverse gear. There is no word from the designer as to how much it weighs but a reputed Italian motorcycle magazine 'Motociclismo' rates it at 220kg.  Which simply means, it's a bike for the dirt roads and little too obese for off-roading. The reason being, it's 6 inches wide rim at front and 7.5 inches at back with a heavy machine atop which makes Brutus chubbier for the purpose and riding it on steep hill with a biker is difficult if not all that impossible.
It seems Alessandro has mud and melting snow in mind when he designed such a motorbike. However, considering the details his claim that Brutus is a two wheeler 'at home in any conditions' doesn't seem apt. Due to this reason, it doesn't seem to amaze too many avid bikers either. Nevertheless, Brutus is designed outside the box and beyond fashion and is to come with a range accessories and add-ons including a side car version, a winch, a fire-prevention kit, a generator, and even a snow kit to make it more consumer friendly.
Via: Gizmag