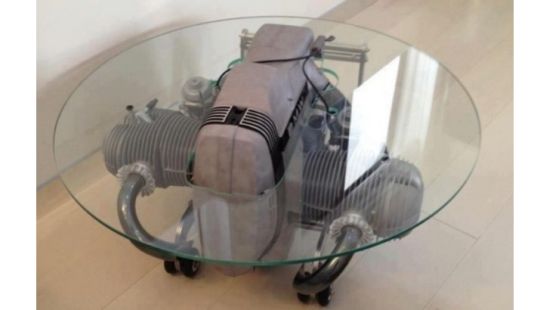 Furniture from scrap auto parts that are otherwise left to rot once their life cycle is over isn't anything new. We have already seen scores of such examples in the past where auto enthusiasts have not only given new form and life to scrap car or bike parts but have done it considerably well. Such creative genii save environment at one side and bring the auto feel to your living space.
One such nifty creation is here and if anything really belongs to the category of 'creative recycling' this is it. An auto enthusiast, who we unfortunately don't know anything about, has taken a BMW boxer engine and recycled it meticulously to make a cool yet fully functional coffee/newspaper/magazine table. The creator intelligently cut and fixed an oval shaped transparent glass atop the engine with all its proportions and the table is quite stable.
Putting the old German technology on display in your living space, the table with hump in the middle might not attract many housewives with scrupulous eyes for the house hold things, but it's surely going to attract a lot of auto lovers and BMW fans in particular.