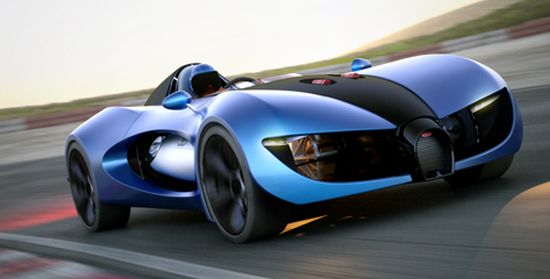 Bugatti Veyron has it all – be it the power, speed or for that matter, an eye catching design. As a result, it's the darling of all the power mongers who scream for more ponies and speed every time they sit behind the wheel and wealthy people with pockets as deep as the Mariana trench. However, the gas guzzling beast isn't what an eco friendly soul would love to drive at any given day. So, the French designer, Marc Devauze, comes up with Bugatti TypeZero concept which runs on electric power.
Inspired by the Bugatti Type 35 racer, TypeZero concept with simplistic design is conceived as a proposal for single seat sports car propelled by, as the name suggests, electric power. Talking design wise, the concept might not look connected to Type 35 at first sight, but if you observe minutely, concept's dark central section has identical contours.
Bugatti TypeZero concept is to get power from the four electric motors that will get a vital juice from the Lithium-Air batteries. As the Lithium-Air batteries (proposed for 2070) with high energy output is still a pipe dream, you won't see such technology coming to the mainstream anytime soon. This indicates that the concept is a futuristic sports car that will be an ideal choice for the environmentally conscious, high speed as well as power loving people.
Bugatti TypeZero concept will have batteries placed at the either side allowing the owner to remove them easily during the race time. Inside, the design is minimalistic and resembles to classic racing car cockpits. One can also see the bucket seat; two spoke steering wheel, a digital odometer and a gauge to show the status of batteries. Although the concept sports car might surely not see the light of the day ever, yet it's a nice concept with a futuristic technology not so commonly known.