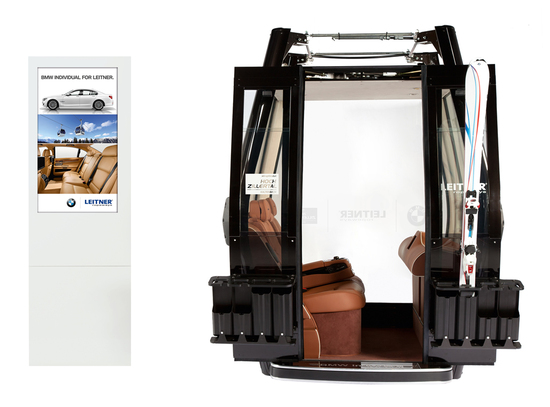 If you are a BMW fan with a passion to scale the mountain through cable car, the Hochzillertal in Tirol, Austria is a place for you. Here you can experience the thrill to scale the snow covered mountains with BMW BMW 7-series luxury. Yes, you read it right! BMW has joined force with cable car producer, Leitner Ropeways to present luxurious cable car cabins with BMW 7-series interior.
Dubbed the BMW Individual for Leitner, the interior of the ultra-modern SIGMA Diamond cabin from Leitner ropeways are designed by BMW Individual. The cable car cabins come complete with all the luxurious features of BMW 7-series to offer relaxed travel up the mountain. The luxury cabins that are embellished with BMW 7-series seating is finished in brown individual Merino leather. Seates double the comfort, for they are heated and have massage function too.
Riding uphill with the comforts of BMW 7-series limousine is surely a fun, particularly when you enjoying the original BMW multimedia system that you control with BMW iDrive button while enjoying champagne up in the sky. On the top of this, BMW Individual for Leitner has its cabin equipped with champagne holder and two champagne glass holders at the front panel. Also, in order to add more fun to the unprecedented luxury and to create a perfect ambience for the purpose, the ceiling of the cabin has matching Alcantara platinum lining.
BMW Individual for Leitner is offered with three different packages that include Exclusive Arrival, Premium Early Bird/Powdern and Premium Wedel Ski Day. The packages start from EUR 50 to EUR 190. To know more about these packages, hit he page here.