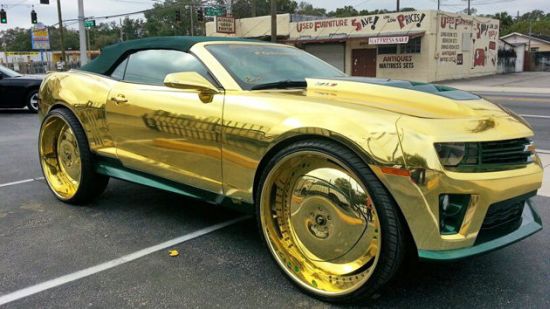 We already introduced you with a customized Camaro SS, among many others that hit the web in the recent past. The wacky Camaro with 32-inch wheels and chrome finish looked nothing less than a devil on prowl. Introducing you today with one similar creation that will surely make you ask – is it really needed? Nevertheless, if it's impressive or not is subjective and more about that famous proverb – beauty lies in the eyes of the beholder. But I am sure those who are into car making and know the level of efforts it takes to custom built a car will surely appreciate it, even if it's for short time.
The car in question here is Chevrolet Camaro ZL1 convertible which is customized by Tempa based tuning shop, 813 Customs. Camaro ZL1 takes a different form after a complete teardown by the chop shop and recreating it with fiberglass dash and doors that house 12 speakers in total at front. Custom builder, 813 Customs, calls its creation King ZL1 and has also equipped it with monitors and three 23" TVs at the back seat.
The exterior gets a gold-chrome vinyl wrap and under the hood is a 6.2-liter V-8 engine which has also been upgraded with Whipple supercharger and custom painted 30-inch Forgiato Maschili wheels. Well, we know that there are millions of Camaro fans and this creation has started a massive debate on if "it's a piece of art or a piece of garbage". What's your opinion on the same? Please let us know through your comments below.