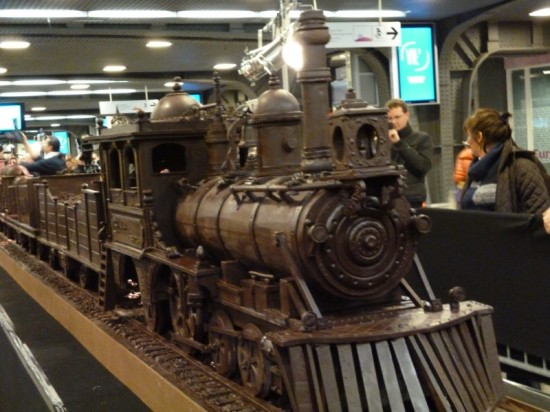 Any work of art which is considered a masterpiece in its genre isn't without hard work and, of course, good imagination and ingenuity. We are going to introduce you with something similar. Just check out image above and you just can't help but appreciate the marvel. It's a 34 meters long edible train that holds a Guinness record for the longest chocolate structure in the world.
The chocolate structure is made by Andrew Farrugia, a chocolate artist from Malta. Andrew painstakingly built the structure to the details of a classic steam powered choo-choo. It was unveiled at 'Brussels Chocolate Week' and made everyone drool over it like a kid. To know the amazing details of the edible train, read the following lines.
The making of edible train out of chocolate wasn't that easy as it took 784 hours for the master chocolatier to meticulously carve the structure out of 2,755 pounds of Belgian chocolate which Belcolade, a chocolate brand, help him out with. The idea to create the luscious masterpiece was conceived by Andrew last year at the Belgian Chocolate Festival in Bruge and the chocolate train sculpture packs a huge 6.5 million calories.
The edible train consists of two parts: the first seven wagons are based on the Belgian trains and the remaining part of the train is molded after the old train wagons and is complete with a restaurant and a bar on board. The artist gave shape to the various parts of the train at his native country at Malta and made it reach Brussels Chocolate Week packed in 25 wooden boxes and its journey to the festival wasn't without sustaining considerable damages. But the creator repaired its parts working day and night and was successful in making it an entry in the Guinness book of World Records.
Via: Odditycentral /itn