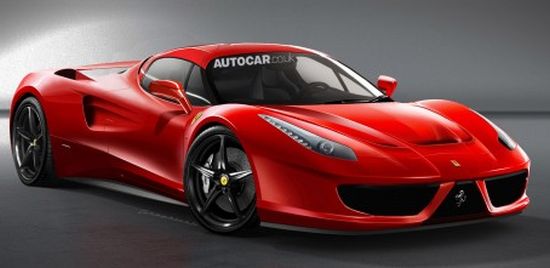 The much awaited Ferrari Enzo successor aka F70 and codenamed as F150 is in news for a long time. We even saw its carbon fiber chassis at the 2012 Paris Motor Show. There have been details in the past and the vehicle is covered exclusively across the web. However, the fresh details of the Enzo successor have emerged yet again. A famous British auto magazine, Autocar, reports that engine performance of the F150 will be somewhere between 850hp to 900hp.
Under the hood will be the refurbished 731 hp 6.3 liter F12 engine which will now generate up to 750 hp. Engine will be paired with an electric motor which will be powered by lithium ion battery packs and is good for 100 hp and 200 lb-ft of torque. The combination takes the overall power tally to a whopping 850 hp but the electric motor, however, won't power the F150 directly. This simply makes Enzo successor as the most powerful street legal Ferrari ever made.
With the extensive use of carbon fiber in its making and active aerodynamics, Ferrari Enzo successor is built to bring F1 driving experience to the road. Designed and build as the true road-legal competition sports car, F70 is to weigh merely 1100 kg, thanks to cutting edge monocoque technology that not only reduced its weight considerably but provided 27% more stiffness in comparison to Enzo's chassis. On the other, Hy-KERS hybrid system which aided more in acceleration but puts CO2 emission down by 40 percent, compared to F12.
In order to bring the fabled F1 driving experience to the street legal roads, the driving seat of the F150 will be in fixed position and molded as bespoke position for the buyer. The seat will place driver in the upright position with his feet raised while he can adjust the pedal box and steering wheel. The mid-engine two-seater sports car will have all the controls on the steering wheel and feature a new duel clutch gearbox and differential design. F150 is due to make its debut next spring. There is no word on the price as of now but it is expected to cost nothing less than £800,000.