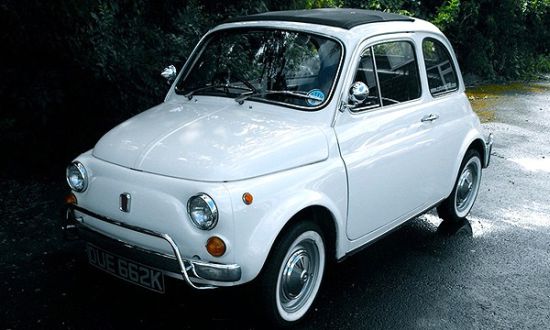 A 1971 Fiat 500 L formally owned by British Prime Minister David Cameron is sold for a cool £18,000 at an auction. The price is more than the double of what auctioneers expected it to fetch. David Cameron bought the car as a birthday gift to his wife Samantha in 1998 and clocked just 1000 miles on it since then. So, the car was in perfect condition and the final sale price of £18,480 is the part of Silverstone Auctions' £1.32 million sales bounty at the recent NEC Classic Car Show auction.
Since the car belongs to as famous personality as David Cameron, it was but obvious that it is to generate a huge amount of money.  On the other, sale of another 1971 Fiat 500 that fetched £17,000 gives the clear indication that these small but stylish cars are in demand even now. With 499cc twin-cylinder engine, David Cameron's 1971 Fiat 500 L comes with papers confirming his possession of the car and a letter from him on House of Commons headed paper.
Other than two 1971 Fiat 500s, Silverstone Auctions puts 41 of 64 cars on auction including 4 Volkswagen Beetles, 351 1960 Aston Martin DB4 Series II and a concours 1997 Ferrari 456 GTA were sold with a 64% sale rate. However, this one is special for it was owned by current British Prime Minister, David Cameron.