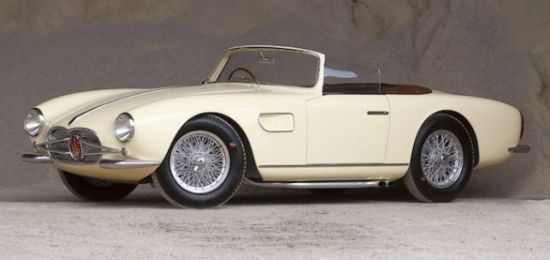 If you love classic cars from the bygone era and want one of them parked in your garage, then you should be at Gooding and Company's 2013 auction in Scottsdale, Arizona on January 18-19. The Gooding and Company is putting a selection of sporting automobiles of the past on auction. The stunning entries include a rare cream colored 1957 Maserati 150 GT Spider, 1938 Bugatti 57C Atalante, 1957 Mercedes-Benz 300 SL Roadster and an original 1965 Shelby 289 Cobra.
So you are gonna get too many choices out there, but the one here in question is a rare 1957 Maserati 150 GT Spider. You can surely sit behind the wheel of this one of the world's rarest yet stunning 1957 Maserati, but you need to spare a staggering £2.5million for the purpose.
Well, Maserati 150 GT Spider of the 1950s will surely attract the collectors and fans equally when it hits the block. The battle for possessing such a unique car could see too many bids before the hammer falls. The car was formally owned by a private collector in Europe. However, the Gooding and Company takes over and expects to get £2.5 million which equals to USD 4 million at current exchange rate. The vintage car comes with a 46 years old two liter engine good for 195 brake horsepower which is, I suppose, enough to pull a car that weighs 860kg.
1957 Maserati 150 GT Spider was originally built as an A6GCS sports car and entertained crowd at 1954 racing season. However, it was later modified to become the prototype for the 300 S model. The 46 years old car was restored by car specialist Steve Hart, and it still boasts its original matching numbers engine, A6G/2000 gearbox, 250 F Grand prix-type brakes and elegant Fantuzzi coachwork to provide the lucky owner with that amazing feel to own a classic car and driving experience which is described as a 'little rocket'.