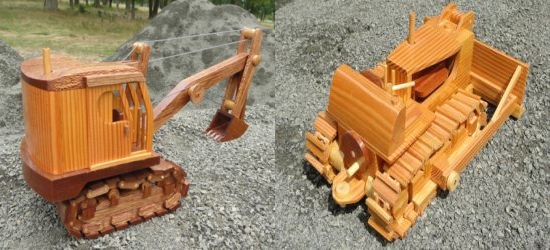 There are too many examples of wooden toys, but there are a few that are functioning and made to educate children about operating a machine. But it is the passion of New York based artist, Jon Pope. He is so much into making the wooden toys that it's nothing less than a therapy for him and he completes at least one wooden toy project a year. Presenting here two of his pieces that he loves the most.
He uses Douglas fir which isn't a hard wood but have beautiful and bold exaggerated grain that suits the best for wooden toys. He also uses mahogany for the dark details at times. The wooden toys featured here are 1/16 scale models and functioning. The Doze is based on the cable blade bulldozer of the 1950's or early 60's with aesthetics that place it between a Caterpillar D9 and an IH TD-25.
On the other hand, Cable Backhoe is influenced considerably by 1950's era Bucyrus Erie and Northwest cable backhoes also functions like a real one with fully functional tracks. This one is also the 1/16 scale model. Apart from the functioning traits of the wooden toys, they are also intended to teach children how pulleys work and other functions that make machine work in real life situations.
Thanks for the information, Jon Pope!