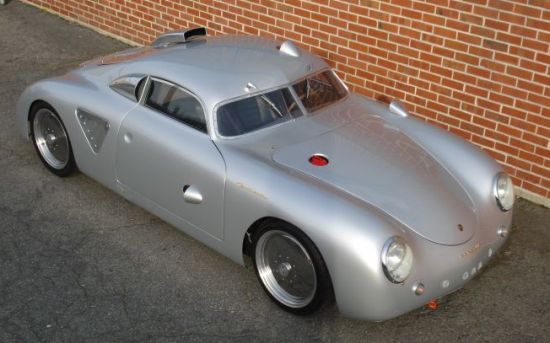 Hot rods are hot, really hot, not because of the huge smoke they belch or for that matter, the rubber they burn on road but for some peculiar traits and lots of efforts put in their building. What if it's a Porsche? It's like asking lots of fans to drool over it like kids. Well, here is a similar creation that you just can't help but appreciate.
Created by Jeff Dutton in 1992 in Australia, the Porsche 356 Silver Bullet Hot Rod combines traits from various Porsche cars like it's based on a 914-6 chassis and its body on 1955 356 Continental Coupe. Powering the beast is a mid mounted RS-spec 3.0-liter 911 engine that develops a cool 279hp. The Porsche hot rod also features Weber carburetors, engine is aligned with a five speed 915 gearbox and 934-sourced ventilated and drilled discs bring it to a halt.
The roof of the car is chopped and it has a longer wheelbase than 356 Continental Coupe. Other noticeable features include 17 inches wheels, 718 RSK-style side vents, side mirror and engine access covers. While inside one can find bucket seats wrapped in green leather, wood trim for steering wheel, VDO instrumentation, beehive tail lamps from 1955 Continental coupe and some of the details are taken form Porsche 911. Additionally, Plexiglas made side window and windscreen completes the Porsche 356 Silver Bullet Hot Rod makeover.
Via: Fantasyjunction / WCF