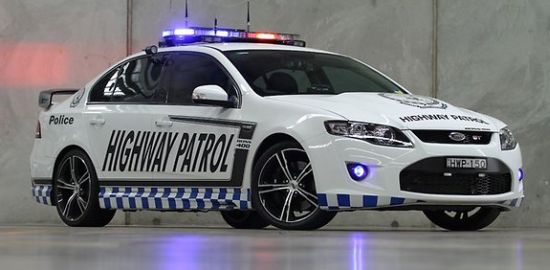 Over speeding is a major concern on roads across the world and one of the major reasons for increasing number of fatalities. Australia is one of them. Here various incidents of car crashes resulting from over speed are reported too often. However, high speed crooks in the country have to think twice before pressing the pedal to the sheet as the highway patrol has added a new Ford Falcon GT to the fleet of highway patrol police.
Built by Ford Australia, new Ford Falcon GT has refurbished V8 engine that generates 87 more ponies than the standard GT with 449 hp which makes it the most powerful highway patrol car ever hit on Australian roads. The extra power is a courtesy of bigger exhaust system and high-flow fuel injectors.
Ford Australia builds this special edition Ford Falcon GT to commemorate the 150th anniversary of the NSW Police and comes equipped with latest radar unit, a technology to read the number plates as well as a suit of on-board computers that will help catch the runaway criminals. Motor Accidents Authority of Australia funded the car that costs well in access of $100,000. After two years or so it will be displayed in the Museum. There is no clear word, however, if it will ever be used as an actual police car or will merely be a public awareness vehicle at events across NSW.