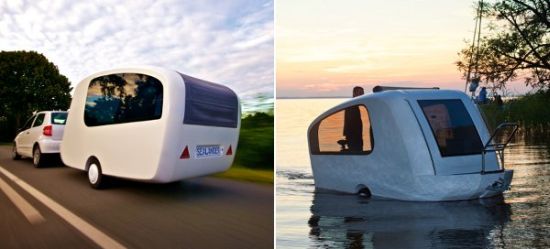 While you are out from your home to enjoy the weekends on undefined sojourns, the camper trailer is what makes you never miss those amenities you enjoy at home. It also offers you amply space to keep you entertained on the go. Out of the many camper trailers available in the market, the one here in question is a special one for reason being many.
Christened as Sealander camping trailer, the mobile recreational dwelling has an impeccable design and above all, amphibious capabilities that double your fun. However, you need not to row it on water as it has an outboard electric motor to take the fatigue. The accumulator of the electric motor can also be used to for the power supply of the interior.
The ultra-lightweight amphibious trailer measures 389cm in length, 160 cm in width and 185 cm in height, with its dry weight at 380 kg. Taking your fun beyond the banks, the camping trailer has waterproof chassis, a broad lower shell design to provide high dimensional stability and it can be towed by almost any vehicle. On the other hand, the awning of the trailer can be removed smoothly allowing you sunbath, look at the stars at night, listening birds chirp or angel eject.
Sealander recreational vehicle to come with variety of configurations and an expected range of around $24,000 – an amount you need to buy a trailer and a boat separately that too without the convergence factor. With various other features, amphibious Sealander Camping Trailer is a complete fun bonanza on both – land and water.