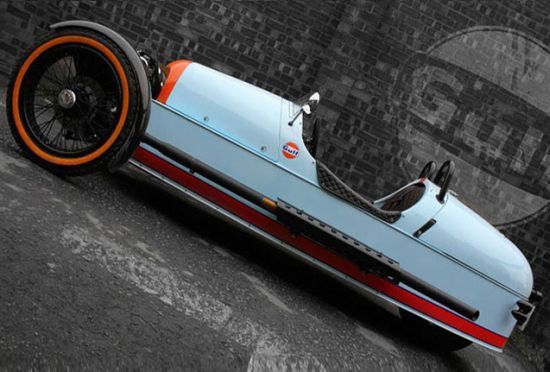 After participating in the 24 Hours of Le Mans with OnOak Racing, Morgan has released the information of a special edition three-wheeler which will be exclusive to Gulf. The limited edition will be confined to 100 copies only and there won't be too many differences to the stock 3 wheeler other than Gulf livery the blacked out details.
The Morgan Three-wheeler Gulf Edition will have blue and orange paint scheme. On the other hand, Morgan has also made considerable changes in the design details. Blacked out details on the Three-Wheeler Gulf Edition include headlight colors, roll bars, exhaust pipes and covers, the mud guards and exhaust heat shields. Additionally, orange color on the logo and two front tire walls adds a touch of customization that pays homage to the special edition name it comes up with.
Other than the Gulf livery for the exterior, Morgan also opts to treat it black as a whole inside. As a result, the seats and the dashboard are dressed up in black leather that has limited edition badge embossed on it. The steering wheel has matching orange stitching and each of the Morgan three-wheeler Gulf Editions will be priced a £29,162.50 + VAT.
Source: Morgan