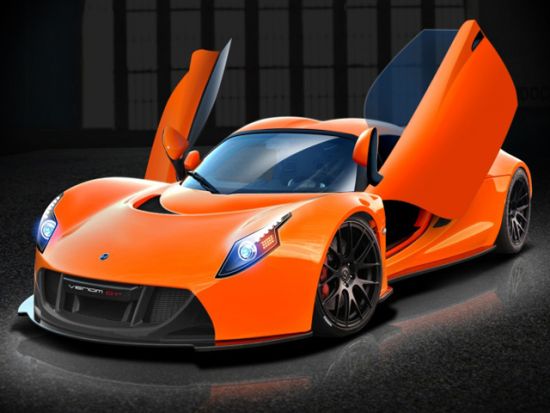 In the recent past, we read about upcoming supercars many of which are in the 1000hp plus segment. The cars include 1600hp Bugatti Veyron SS successor, 2013 Koenigsegg Agera S, SSC Ultimate Aero XT and many others from the likes of Ferrari, McLaren and Lamborghini that are almost close to the mark and supreme in more ways than one. However, Hennessey is all set to give them a run for their money with its upgraded Venom GT.
Known for building some of the most powerful road wrecking beasts, Hennessey is currently working on the 10th Venom GT supercar. The latest version will come with hoards of features and upgrades. The details of the upgraded Lotus-based Venom GT are scant at the moment but the images give us some insight as to how the car will look after completion.
The bright orange color and falcon doors seem to get inspiration from the McLaren's P1 concept shown at the 2012 Paris Motor show. Apart from that, the upgraded Hennessey Venom GT features redesigned headlights, there will be more head rood courtesy to double-bubble roof design and it will have best power to weight ratio in the hypercar segment.
As the 2012 Venom GT already produces 1200hp with twin-turbo 7.0 aluminum V8 engine, it remains to be seen what upgrades will be made in the same engine to produce a whopping 1500hp.  The regular Venom GT has a power to weight ratio of one horsepower for every kilogram which simply means that the upcoming beast will have less than one kilogram for each horse to schlep. On the other hand, the 2012 model takes merely 2.2 seconds to from 0-62mph while on its way to a top speed of 272mph which owes much to its carbon fiber body. The 2014 Hennessey Venom GT2 is expected to be faster and quicker to put the world's fastest Bugatti Veyron SS to shame.
The current model comes up with a choice of six speed manual transmission or an optional seven speed sequential gearbox that transfer the power to the rear wheels. The transmission choices are likely to be carried over to the revised model. The official debut of the car is expected in the late 2013 and the starting price for Hennessey Venom GT2 will be $1.25 million.
Source: Hennessey Performance