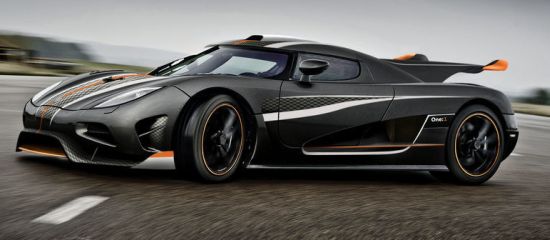 There were lots of rumors and images of Koenigsegg One:1 leaking online after its brochure scan appeared in the recent past. With this came the speculations that One:1 is a customization program to give customers ample freedom to make their Koenigsegg as extreme as they want. Also, there were rumors about the Koenigsegg One:1 being on-off a car. However, here comes a word from the Christian von Koenigsegg that puts the speculations to rest.
As per Christian von Koenigsegg, the One:1 is a limited run of five cars aimed at the wealthy Chinese customers and the use of number One:1 in its name refers to its power to weight ratio which will be 1 hp for every 1 kg of weight. If we keep the said power to weight ratio in mind, One:1 will be lighter than the Agera R and expected to have power between 1250 hp and 1350 hp under the hood, which will mark a huge jump from Agera R's 1140hp.
Well, these figures will enable One:1 to have performance that could outdo Bugatti's Veyron Super Sport's 2.5 second sprint time for 0-62mph to become the world's fastest car. However, the title won't fall for Koenigsegg too easily as the competition is going to be stiff with the upcoming 1600 hp Bugatti Veyron SS successor, 2013 Hennessey Venom GT2 with 1500hp and SSC Ultimate Aero XT with 1300hp will  leave no stone unturned to get the title.
Christian von Koenigsegg says that the car is in the early stages of production and date for its reveal isn't set as yet . However, it is confirmed that the car will cost $2 million. For more information on the same, please keep reading autochunk.com and we will keep you updated on the same.