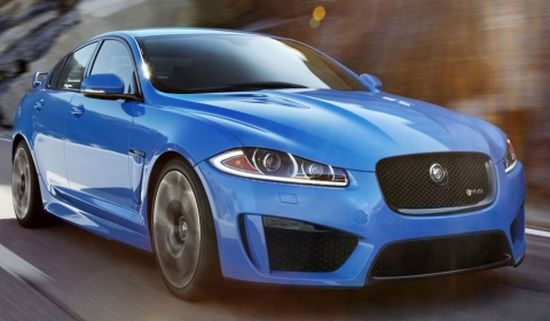 Following its two teaser images surfacing on the web this and last week, finally we have the glimpse of 2013 Jaguar XFR-S ahead of its official debut at 2012 LA Auto Show. The most extreme version of XF, the Jaguar XFR-S to come coated in blue color trim aka French Racing Blue – something that we also saw on XKR-S.  2013 XFR-S is to be a new performance flagship in the Jaguar lineup, together with XKR-S coupe and convertible.
Under the hood will be a 5.0-liter supercharged engine capable of developing 550 hp and a peak torque of 680Nm. The engine and power output of the Jaguar XFR-S is identical to XKR-S but 40hp and 55Nm more than what XFR produces. It gets a sprint from a standstill to 100km/h in 4.4 seconds, with a top speed of 300km/h. On the top of this, the Jaguar XFR-S is to come with aggressive body kit that gives 70% more downforce.
The kit includes a new front fascia with big-hole filled front bumper, while the rear gets a tweaked version of XFR's bumper, redesigned side skirts, a new rear diffuser and a massive rear wing completes the whole package. The parts have some kind of carbon fiber trim and it also swaps the chrome highlights for black look and runs on split six spoke alloy wheels.
2013 Jaguar XFR-S will be built in limited numbers and US to get only 100 units with a starting price of $99,000. The numbers for Europe, however, isn't known as yet. Jaguar booth at the 2012 LA Auto Show will showcase XFR-S next to F-Type roadster which is expected to make its Australian debut in the coming months.