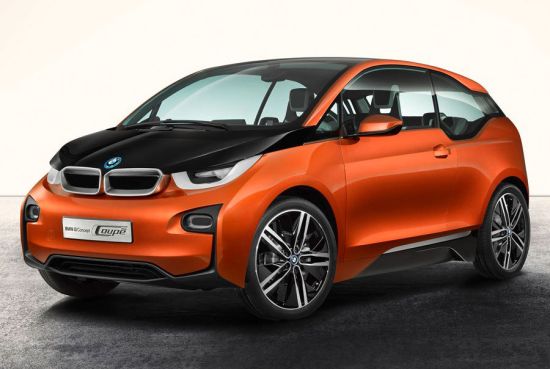 Just before the 2012 LA Auto Show, BMW puts the wraps off to its new member in i lineup, i3 Coupe. The concept is basically a three door Coupe version of i3 concept revealed in July this year. Like other i vehicles from BMW's new i division for sustainability and future mobility, the i3 coupe is made on the same wheelbase as i3 concept with its body made of carbon fiber body and it gets power from an electric motor.
Measuring 3,964 mm X 1,768 mm X 1,555 mm in length, width and height respectively, BMW's i3 coupe is world's first fully networked electric vehicle. With a seating capacity for four, the concept i3 coupe gets power from an electric motor that gets juiced up from the lithium-ion storage cells placed under the floor. The positioning of battery under the floor also helps in lowering the centre of gravity considerably. Electric motor is good enough to generate a moderate 170hp and a peak torque of 184 lb-ft. Power is conduit to the rear wheel via a single speed transmission.
Supporting the zero emission powertrain is the aerodynamics of the car which is designed to offer maximum performance and efficiency. The i3 coupe seats passengers in a carbon fiber-reinforced plastic safety cell. Additionally, aluminum made 'Drive module' has the drive system, chassis, energy storages units and structural and crash functions placed in it.
The i3 coupe which was earlier rumored to be unveiled as the i4 runs on 20-inch alloys that are draped in 155/60 R20 tires upfront and 175/55 R20 at the rear end. Drivers can select one of the three driving modes that include Comfort, Eco Pro and Eco Pro+ wherein the last one is the most efficient one. In this mode, the maximum speed is curbed at 56 mph and its maximum range is 100 mile on a fully charged battery.
Inside, BMW uses various renewable raw materials like leather wood and wool. The instrumental cluster of i3 is a 6.5 inch which is located on the steering column, other than the dashboard mounted 8.8 inches display to show the navigation and other relevant information to the driver.  There is no word on if it will enter production ever, for more updates on the same stay tuned.
Source: BMW