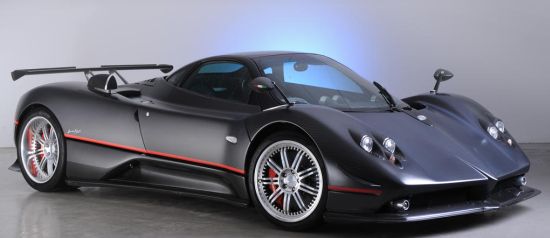 Pagani fans or for that matter, any supercar lover can't forget the debut of Pagani Zonda C12 in coupe form at 1999 Geneva Motor Show. It was the first Zonda built by Horacio Pagani – an Argentine-born industrial design graduate who worked with Lamborghini in mid 80s and played a considerable role in developing Countach and Diablo road cars as well as assisting the F1 engine program for the Italian automaker.
Pagani Zonda C12 coupe was equipped with Mercedes-Benz AMG sourced 6.0-litre V12 engine that was rated at 408 horsepower enabling it to get 0-60mph in 4.2 seconds, 0-100mph in 8.2 seconds en route to its top speed of 200mph which owes much to its carbon fiber body make. Its seemingly small cabin has ample space to seat two people comfortably and it was produced in limited numbers with 6.0-litre V12 engine which was replaced with more powerful 7.0-litre C12 S in 2001 taking the power tally to a 542bhp and 555hp later in 2002.
The one in question here has 7.0-litre C12 S built as a right hand drive with Chassis no. ZA9C820C10SF76046. It went back to the garage in 2009 for accident damage repair and to upgrade it to high performance 'F' specifications. The work on it was completed in 2010 and it came out with Zonda Cinque features including two front splitters, side skirts and mirrors and Zonda Tricolore air ducts, wing and diffusers at the rear end.
The upper and lower sections are repainted in black replacing silver, center console was replaced inside, Zonda F dashboard installed and the entire interior is finished in black leather with contrasting stitching. This one-off a kind Pagani Zonda C12 is ready to exchange hands at Mercedes-Benz World in Weybridge, England next year and is expected to fetch as much as $960,000.